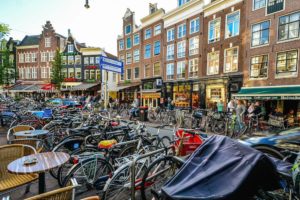 The Netherlands is home to awesome scenery and unforgettable experiences. Make your Amsterdam stay one for the books with these things you can do when you visit there:
Explore the Amsterdam City via Cycling
There are different ways to go about the city but it is better to do as the Dutch do. Cycle around the city to explore its famous canals and attractive sceneries. Make it a fun and enjoyable experience by cycling to see monumental buildings and historic sights. 
Get the Heineken Experience
Dutch and beer always go together. Discover how the Heineken beer is brewed by learning the beer brewing process and enjoy an ice-cold beer afterward.
Go Around the Garden of Europe
The Netherlands is home to the Garden of Europe, Keukenhof. If you love nature, greens, and colors, you will definitely be in garden heaven when you visit this place. Get lost in alluring exhibitions of flowers and enjoy a palatable meal from their surrounding restaurants. 
Check out the Canals of Amsterdam
If canals are your thing, you wouldn't want to miss visiting the canals of Amsterdam. Either go on a boat tour or ride the water taxi to have an experience of a lifetime. Or if you are on a budget, you can always stroll around as you marvel at the canals. 
Try Dutch Street Food
Any travel experience wouldn't be complete without trying local food. And the best way to do this? What else but street food. Try their meat-based fried snacks and pair them up with ice-cold beer. You can also try a traditional Dutch dessert if you have a sweet tooth. You can find anything you fancy with their delectable street food choices.